Trucks, Shelters, Workshops and UGVs On Marshall Land Systems Stand At DVD 2010
Marshall Land Systems shows its range of capabilities on stand SP-06
Cambridge, 23rd June 2010; Trucks, shelters, workshops and unmanned ground vehicles are all featured on the Marshall Land Systems stand, SP-06, at DVD being held at Millbrook Proving Ground near Bedford on 23 and 24 June 2010. The company is also exhibiting on the MAN Trucks and Bus UK, Iveco and DS&TE stands.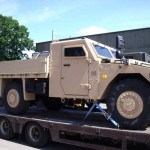 Marshall VE, part of Cambridge based Marshall Land Systems, will be showing its capability in building load beds for military logistic vehicles on a number of stands across the show. On the Marshall Land Systems stand will be a Renault Sherpa Light Tactical Utility vehicle fitted with a load bed capable of carrying four pallets and a payload of 5,000 Kg.
On the Iveco stand, OR 18-20, and the cross country course there will be a 4 seater LMV Protected Utility (PU) vehicle, which has been fitted with a load bed able to carry two NATO pallets and is aimed at meeting evolving requirements world wide for small high mobility and highly protected utility and logistics vehicles. There will also be a Trakker 6×6 heavy duty logistic vehicle fitted with a 20ft ISO compatible loadbed and cargo system. These vehicles, together with an upgraded Iveco Panther will be undertaking a co-ordinated demonstration on the mobility area.
On the MAN Truck and Bus UK stand, OR 35-38, and cross country demonstration area a MAN TGM logistic vehicle is being exhibited with an in-service UK MOD HX60 6 tonne loadbed and dropsides. This combination of a lightweight high performance military loadbed and militarised commercial vehicle, which utilises the same automotive components as the HX60 tactical vehicle, offers users a cost effective solution for training fleets without the need for additional or different, driver and/or maintainer training.
Launched at DVD is the Support Workshop Hub or SWHUB. This is a new concept in maintenance and support. It is a fully fitted transportable workshop housed in a Marshall SV shelter. It can be deployed to major customer sites where maintenance and support facilities are constantly required rather than a visiting engineer arriving in his van. It provides space for the engineer to work protected from the weather and with all the tools and facilities close to hand. This will ensure that the customer's fleet of vehicles has reduced downtimes and less disruption.
The multi-role TRAKKAR UGV will be demonstrating its ability to follow its operator as he/she moves across the battlefield. The 4×4 platform, which can carry a 250kg payload, is fitted with a receiver on the vehicle which is linked to the vehicle control system whilst the soldier has a small transmitter and a PDA sized control unit. The soldier is presented with a simple three button interface for common commands, such as "follow me" "catch up" and "return to last RV". TRAKKAR can also follow a pre programmed route.
A second UGV, QUESTAR, launched at Eurosatory 2010 will be on display. A small agile fast UGV, its payload can be tailored to the operational requirements and can include communications re-broadcast; optical, IR or thermal imaging sensors; radar, CBRNE reconnaissance systems; and can be fitted with an extending mast to provide a remotely operated sensor platform with the ability to look over obstacles. QUESTAR can be configured to meet any number of operationally dangerous missions such as CIED work, CBRN Recce, Deployed/Detached/Roving surveillance, threat detection and sentry tasks and route reconnaissance. Its small size and speed make it a difficult target. Its simplicity makes it a life and manpower saver.
On the Deployable Support and Test Equipment (DS&TE) stand, OR 03, Marshall SV is displaying with the IPT a Deployable Machine Shop (DMS), the last of which was delivered six months early in the first quarter of 2010; the Power Pack Refurbishment Facility (PPRF); and a recently delivered battery charging facility which is being trialled by the RAF.
The Marshall Land Systems Plasan Joint Venture will also be present on stand SP-05.