New Yugoimport 4×4 Fitted with Timoney and Texelis driveline
MILOSH uses T700™ modular driveline and bespoke steering system
 A new design 4×4 armoured vehicle unveiled n the Yugoimport stand (12-E20) at IDEX 2017 is fitted with the latest T700™ modular driveline system announced jointly by Timoney and Texelis in the middle of 2016.
The MILOSH is designed as a troop carrying or liaison vehicle and has high mobility levels as well as good levels of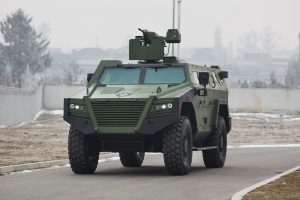 protection.  It is fitted with a remote weapon station to give the vehicle fire power capability.
The MILOSH is also fitted with an Independent Suspension Axle hub-to-hub driveline solution and a front wheel steering system designed by Timoney.
"Working together with our partners in Texelis we have been able to capitalise on our joint expertise in designing and developing modular drivelines suitable for 4x4s such as the MILOSH launched today," said Shane O'Neill, Chief Executive of Timoney.
"It is this type of partnership arrangement which has enabled us to deliver high quality reliable driveline for 50 years," added Mr O'Neill.
The T700™ modular driveline has been designed to meet a requirement for a lightweight, cost effective solution for military and commercial vehicles with a maximum gross axle weight requirement (GAWR) of up to 7000kg.
The driveline can be adapted to meet specific vehicle requirements such as those for the MILOSH.  The driveline system utilises proven modular assemblies such as wheel hubs and differentials from the Texelis rigid axle range in conjunction with Timoney independent suspension technology.
Ends