Marshall Land Systems Comes to Farnborough 2010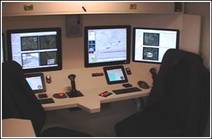 UGVs, C-IED, ISTAR, Ground Control Stations and Integration presented on stand A11, Hall 4
Cambridge, 12th July 2010; Unmanned vehicles for Assisted Load Carriage, Counter-IED solutions, and ISTAR, and Ground Control Stations for UAVs and weapons will all be presented by Marshall Land Systems of Cambridge on stand A11 in Hall 4 during the Farnborough Air Show being held from 19th to 25th July 2010.
The company's experience in unmanned air vehicles and weapons includes providing the ground control stations for Watchkeeper, BAE SystemsHerti and MBDA's Fire Shadow. These are housed in transportable protected shelters or stand alone PC solutions which have their own power and air conditioning and are fully EMP and EMC protected. Marshall Land Systems also rapidly prototyped and constructed the airframe for the Fire Shadow munition that flew in 2008 and 2009.
On the ground, the company has a range of Unmanned Ground Vehicles including TRAKKAR which is a four wheeled vehicle with a 250kg payload that has both a logistic capability to reduce the burden on the dismounted soldier by utilising follow-me technology or can be remotely operated and fitted with a variety of ISTAR, CBRN or C-IED systems or be deployed as a remote weapon platform.
A second UGV, QUESTAR, was launched a month ago. A small agile fast UGV, its payload can be tailored to the operational requirements and can include communications re-broadcast; optical, IR or thermal imaging sensors; radar, CBRNE reconnaissance systems; and can be fitted with an extending mast to provide a remotely operated sensor platform with the ability to look over obstacles. QUESTAR can be configured to meet any number of operationally dangerous missions such as CIED work, CBRN Recce, Deployed/Detached/Roving surveillance, threat detection and sentry tasks and route reconnaissance. Its small size and speed make it a difficult target. Its simplicity makes it a life and manpower saver.
The company's systems integration capability has been demonstrated through solutions delivered to customers in recent months. These have included a communications and surveillance control shelter which has work stations and server racks and was delivered jointly to the Deployable Support and Test Equipment (DS&TE) and the Imagery and Geospatial (IMaGE) delivery teams at the UK MoD; a mobile intelligence and analysis system housed in expandable shelters, which provides workspace for intelligence analysts to process data and deliver information to commanders to use in planning future activities.; and the command shelters for the UK's new air defence system – Land Environment Air Picture Provision or LEAPP. On the export market solutions have included a mobile command centre for the Swedish Defence Forces.
Other examples of integration are demonstrated by the company's work in the medical field providing field hospitals to the Norwegian Defence Forces together with a world first – a CT scanner mounted in a transportable shelter. In the field of support the company has provided workshops for the Royal Navy, Army and Royal Air Force, all of which have required working closely with the customer and the end user to ensure the most effective ergonomic layout and to deliver a fully integrated solution.