Deployable Machine Shops Delivered Ahead of Schedule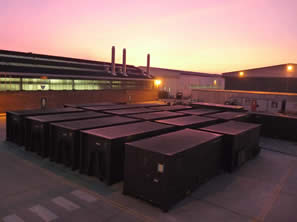 44 Deployable Machine Shops (DMS) have been handed over to the Deployable Support and Test Equipment Team (DS&TE) at the UK Ministry of Defence by Marshall SV, part of Cambridge based Marshall Land Systems, six months ahead of schedule.
The DMS under went successful user trials during the middle of 2009 and were then manufactured rapidly in order to get the new facilities to users across the world. This process reduced the cost for the MOD too. The shelters are now entering service to much acclaim.
"Completing this contract early was a great feat of excellent project management and manufacturing skills," said Peter Callaghan, Chief Executive of Marshall Land Systems. "It was made possible because of the close working relationship between DS&TE, the end user and our project team at all stages with everyone being focused on delivering a quality solution. The engagement started early in the project which allowed us all to see what was needed by the end users and then to sign up to the design"
The DMS are being used by Royal Marines, REME, Royal Engineer and Royal Air Force mechanical and electrical engineers wherever engineering support is required. The units have been designed for easy deployment by road, rail, air (by C-130J&K, C17 and Chinook), or sea to wherever they are required in the world.
The DMS will enable the maintenance specialists to carryout front line support milling, turning and finishing mechanical parts and provide space for basic testing and repair of electrical equipment and servicing of much of the complex equipment now in service.
"DMS was delivered 6 months ahead of schedule on a 24 month contract, within budget and with enhanced capability. This excellent example of all round Value for Defence was only possible due to the 'partnering approach' taken between MSV and the MOD. Constant user involvement has ensured that this capability is definitely what the wide ranging user community wanted. Early feedback is extremely positive from all" said Col John Abbott, DS&TE Team Leader